The History of Quilting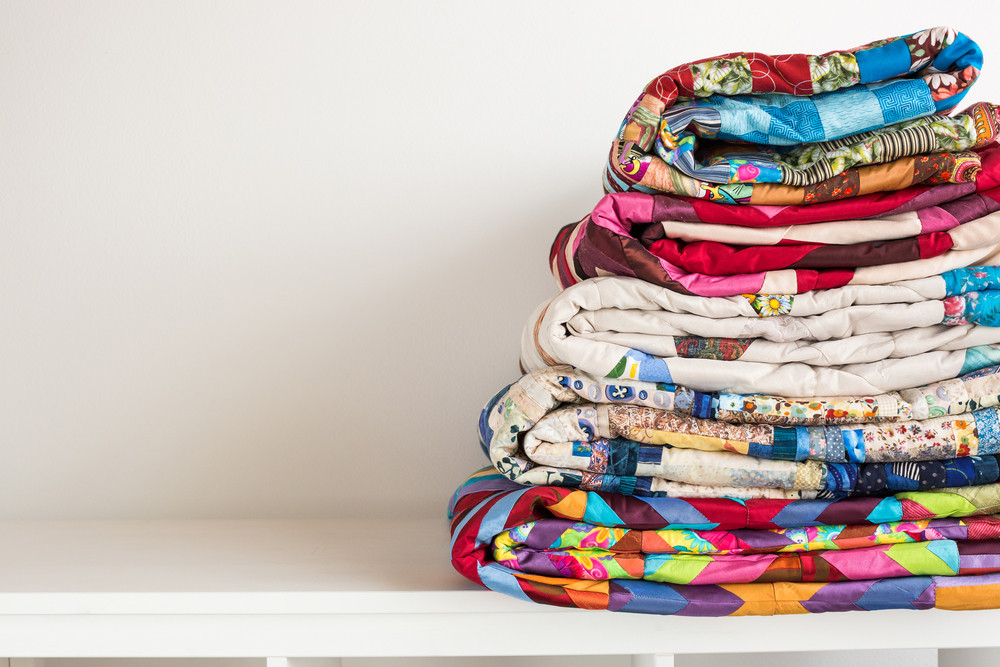 Like traditional art, quilts can evoke emotion. They bring to mind the comfort of a bed at a favorite grandparent's house and the stories told to them by parents and grandparents as they recounted the history of the quilt that covered them. Many have received heirloom quilts of their own, passed down through the generations. Those that are lucky enough to have had quilters in their family or circle of friends may even have custom quilts given to them to commemorate important occasions like weddings or the birth of a child.
Museums like the National Quilt Museum, the Texas Quilt Museum, the American Folk Art Museum, and the Smithsonian's National Museum of American History all have all acknowledged the importance of this beloved textile art with exhibits about the history of quilting. While they hold an undeniable part of American history, the rich tradition did not originate from the native Americans. As artisans immigrated to America from all over the world, they brought with them their particular styles, techniques, and textiles.
Origins of Quilting
Evidence of quilting can be traced back to ancient Egypt. An ivory carving in the British Museum depicts the first Egyptian Dynasty king wearing a quilted mantle. Other examples of quilted garments date back to the 12th century. By sewing fabric pieces together and encasing padding inside, seamstresses and tailors created garments for crusaders to keep them warm and comfortable under their protective armor.
While many early quilts were intended for practical use, there is also evidence that some were made to be aesthetically pleasing. The oldest surviving example of a decorative quilt is the Tristan Quilt made in Sicily in the 14th century. Pieces of the quilt are on display at both the Bargello Palace in Florence, Italy, and the V&A Museum in London, England.
As the Puritans settled in America, quilt making was more for function than artistic expression. The need for warm bedding also provided a way to recycle outgrown or damaged clothing. When money or fabric was in short supply, anything on hand might be used to make new quilts, including old quilts. The hand-sewn blankets made by early settlers were not heirloom quality but instead were made purely for their usefulness.
Art and Expression
Though pieced quilts were still standard for household use, around 1750, the craft of quilting began to emerge as a form of art, exhibiting painstakingly detailed craftsmanship. During the next 100 years, the designs became more elaborate. Many of the patchwork creations took years to finish. Quilts from that era still exist and are on exhibit both in private homes and in museums.
In the early 1800s, the styles evolved to include whole cloth quilts, broderie perse, and medallion quilts. Whole cloth quilts used solid sheets of fabric, as opposed to pieced cloth, while intricate stitching created designs with encased padding. Hand-painted and dyed East Indian textiles were the inspiration for the emergence of whole cloth quilts, or counterpanes, not only for the richly colored patterns but also for the highly valued Indian cotton. The French term broderie perse means Persian embroidery, but it also refers to the floral chintz textile patterns that were cut out and appliqued to the larger fabric with tiny, delicate needlework.
Storytelling and Family History
Quilts have played a significant role in America's history, including that of the Civil War. 1830s abolitionists embroidered anti-slavery messages on quilts to sell at fairs to raise awareness of and raise money for the cause. Southern women contributed to their cause by raising money for desperately needed gunboats by making and selling beautiful Gunboat Quilts. These are two examples that tell the story of the Civil War from opposing perspectives.
The story of a family was also commemorated in hand-pieced fabric. Scraps from baby clothes, dresses, shirts, or pants were used to create the pattern. Each scrap could represent an important occasion or the person who wore them, with individual squares illustrating events in the family's history. Quilts just as often told the story of the creator from the cultural context of their times.
Quilting in Modern Times
Quilting has experienced a revival over the last 60 years. In the time leading up to America's bicentennial, historians began to examine the history, artistry, and historical significance that quilt making played. This retrospective sparked a resurgence in the craft that is still in evidence today. Modern trends incorporate neon colors mixed with traditional patterns or use text as the focal point. Statement quilts have also emerged as a method of processing significant events in the artist's life.
Just as with painting, sculpture, and clothing, quilts have been influenced by the culture, events, and political environment of the times in which they were created. They tell the story of kings and slaves, families and individuals, history, and dreams. While everything old becomes new again at some point, each revolution adds some new technique or detail that sets it distinctly in its own time. In 20 years, it will be exciting to see how current events will influence the quilt designs of the future.
For lectures or presentations on quilting, contact prolific quilter and artist Eileen Zube.